Interview with Daniel A. Wolf
Author of But Is He Jewish?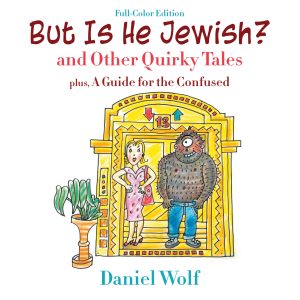 Where are you from originally, and where do you reside now?*
I was born and raised in Philadelphia, Pennsylvania, and currently reside there. However, from 1983 to 1993, I taught English conversation in northern Japan.
What made you decide to write and publish your first book?*
Having composed five full-length musicals and six dramatic plays (www.danielwolfmusic.com), I wished to explore another medium with which to express my ideas—the short story. And yet, having admired short-story collections by such masters as F. Scott Fitzgerald, Ernest Hemingway, and Truman Capote, I hesitated. How, I asked myself, would my stories fare when overshadowed by such brilliant writing? Nevertheless, allowing inspiration to rule over intimidation, I decided that facing the challenge would, with time, strengthen my skills and confidence. Now that I have completed my first book, my creativity is stimulated by a plentiful reserve of potential stories awaiting development for a second collection.
How would you describe your books to first-time readers?*
My first book is divided into three sections. The longest section, "Quirky Tales," consists of fifty short stories. Although each touches upon some aspect of Jewish life and culture, collectively they deal with such universal themes as love, mortality, courage, coming of age, and the importance of family.
The following section, "Mishegas" (Yiddish for craziness), includes stand-up comedy routines; the philosophical musing of a fictitious rabbi; tongue-in-cheek advice for daily living ("A Guide for the Confused"); a list of imponderables (aptly called "Eighty Questions to Ponder"); and nonsensical poetry ("Quit").
The final section, "Animals with Attitudes," comprises four humorous mini-plays with animals taking on Jewish characteristics and even using some Yiddish expressions (translations provided).
Who do you feel is most likely to connect with the topics you write about?*
The stories in But Is He Jewish? are wide-ranging, addressing issues related to different socioeconomic levels, age groups, and genders. As a result, they can provide both pleasure and enlightenment for readers of all backgrounds. The book also strikes a balance in shifting tones between the humorous and the thought provoking. This versatility of approach is especially pertinent in the pieces dealing with family relationships, which will be of vital interest to most readers. Finally, the prevalence of startling plot twists and unpredictable endings will make But Is He Jewish? a compelling experience for the alert reader.
If you could, what advice would you give to your past self before embarking on this journey?*
I would encourage my past self to never give up. The writing process is mentally challenging, and thus one could easily become discouraged. At those times, patience is essential, as new thoughts eventually do emerge. I would also tell my younger self that, as with many toilsome but worthwhile pursuits, the intense effort of writing becomes in itself cumulatively more desirable and pleasurable over time. I remember the words of President John F. Kennedy—"We go to the moon not because it's easy, but because it is hard"—which inspired me to undertake this journey and never waver.
How many people would you ideally like to reach with your books?*
My fond dream is to reach out to the entire population of our world, and perhaps (thinking at the cosmic level) even to representatives of the more literate extraterrestrial life-forms.  But speaking in more practical terms, I would be pleased to find a few thousand earthly readers, as I'm fully aware that it is difficult to reach a mass audience with a single book. I hope, therefore, that as I continue to produce and publish, my works will be noticed, garner critical acclaim, and steadily increase in readership.
What has been the biggest challenge and frustration during the process to date?*
Years ago, I attended a lecture by Norman Mailer during which he said that writing well is like playing the piano well. He was right. A pianist must hit the right note. It's the same with a writer—there is the correct word to use. All else can only detract from the central idea. That is what makes writing such an arduous task. Then, of course, writing is to a great extent rewriting. One should never be complacent about the first draft or even the tenth draft, as there is always the potential for improvement. I have discovered that avoiding arbitrary timetables to mark creative progress allows the correct word or phrase to come naturally to the fore.
What are your biggest strengths in book a) writing, b) publishing and c) marketing?*
I am fortunate to have a lively and uninhibited imagination, and so I have little trouble generating bold story ideas. This creative fertility is supported by a way of life that is both critical and contemplative: the life of a reflective observer, a sometime outsider. From this vantage point I examine human behavior, foibles and all, which often becomes fodder for my storytelling.
What's your biggest weakness regarding book a) writing, b) publishing and c) marketing?*
With my first book I am new to the publishing and marketing world. Fortunately, I am in the good hands of GoTo Publishing, which has performed yeoman's work on my behalf. The production team worked tirelessly to bring my book to life and offered invaluable advice along the way. Thanks to the marketing team's outreach, my book has already received several thoughtful and appreciative professional reviews, which GoTo has posted on social media. In addition, the team has created trailer videos for wide circulation.
When do you think you will write your next book?*
My second book, tentatively titled Never Lose Sight of the Dark, is now in its early creative stages. As with the first, it will feature stories, but I anticipate more items that are longer than was typical in the first book, and more that lean toward a serious tone. It will also include a "Mishegas" (craziness) section similar to the one in the first book. With a little bit of mazel (good luck), the new volume should be out sometime in 2024.
FEATURED AUTHORS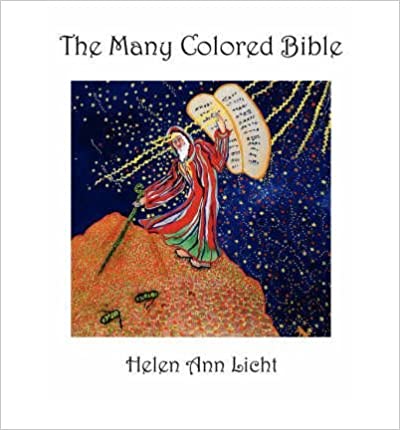 Interview with Helen Ann Licht
Worrying if I was telling too many secrets Leaving out so much.
Keep Reading »