Kevin Kwan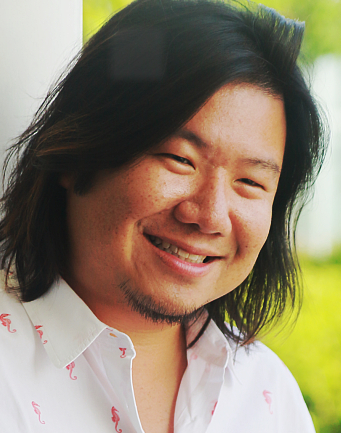 How Kevin Kwan Got Insta-Famous
How the author of Crazy Rich Asians found writing success
One of the hottest book sensations to hit the publishing world recently is the pop phenomenon three-part series made up of 'Crazy Rich Asians,' 'China Rich Girlfriend,' and 'Rich People Problems.' Penned by Singaporean-American author Kevin Kwan, the New York Times bestseller has sold thousands upon thousands of copies. The book series focuses on the outrageous adventures of the loaded set from the gilded East and explores the comical mishaps in the deliriously scandalous lives of their high-flying, jet-setting posse.
Of late, Kwan has emerged as one of those rare authors from Asia who enjoys a solid following in the West. As product of his books, he's also found success in Hollywood via a soon to be released movie adaptation of his book series. Kwan is also what one would call a social media-savvy personality with his Instagram feed showing his book tour that takes him all over the world as he meets avid fans through his book events.
Here, we discover how Kwan found himself creating these three tales, how he's managing the rigors of writing, and how he's found commercial crossover after getting published.
Can you share with us your creative process?
Kevin Kwan: For the first two books, I actually created a system that was very rigid. I would only write in the corner of my living room in New York. My desk was set up in the corner and I wrote there. I had a very disciplined schedule of only writing. In the morning, I'd write for 3 hours, take a break, and do all the afternoon work—the office work that I had to do. In the evening, I'd write again for a few hours. I never thought I could write anywhere else.
For the last book, I actually began writing it on my laptop which was new to me. And then I would venture into different cafes. After writing two books sitting in the corner of my living room, I needed to venture out. And I found to my surprise that I could write in a cafe with lots of things happening. And it was actually nice to be out there. It kept me motivated to be in a space where there is energy around you. My writing process has become much more adaptable now. It's exciting because now I can travel and write and not just be stuck in my living room corner.
What inspired you to create these characters in the novel?
Kevin Kwan: When I first began writing it, I was really trying to write from a place of memory, and inspiration, and truth. A lot of it is inspired by my childhood in Singapore so naturally that meant a lot of Singaporeans. But because my family was also very international. My relatives moved to Hong Kong, Thailand, Australia. I got a chance to travel to those places and meet these people. Everyone's all over Asia and all over the world but they tend to be Asian so I guess in that way, it was a natural diversity that happened.
In all my books, I really play these name games. Where every name is a play on famous people there. For a few, famous people, their names are joined together. So, I do that throughout the books with all different types of people—Singaporeans, the Hong Kong society, even some New Yorkers show up in the books. And so, wherever I go, the friends discover this themselves in my books—you know it's a fun, little treat to see a version of yourself in the books. And I never use the real names.
In your books, how much is fact and how much is fiction?
Kevin Kwan: For the first novel, the way I began writing it—they were really a collection of short stories. One day, I would write one short story about Eleanor Young, for example, Nicholas Young's mother. The next day, let's write a story about Astrid Leong, who was a cousin of the family. They were just a collection of stories and memories. Nothing is really based on fact, per se. They are stories stitched together, inspired by things I remember from my childhood—not necessarily that they've happened to me.
A lot of it is inspired by true events that have happened to other people, other families. A lot of the stories, especially for Singaporeans, are very recognizable because there are a lot of famous family scandals, things like that. For Singaporeans, it was really a surprise. It was almost like a tribute to all the drama—and melodrama to these society scandals.
What kind of research did you do for the books?
Kevin Kwan: There's no research at all. It was more like fun and play. The only research I do is really travel. When I go to a certain place, I decide what to do with the scenes and things like that. But beyond that, the characters, the story it's all just kind of familiar.
Did you plan the whole story to be a trilogy?
Kevin Kwan: It was always my plan and my hope to make it a trilogy because I knew the full story I wanted to tell. But, of course, publishers only sign you up one book at a time. They want to make sure the first book works. Even the second book—we did it one book at a time, basically.
Do you have a favorite among the three?
Kevin Kwan: Right now my favorite is the most recent one, the third one because it's the freshest to my mind. I just actually finished writing it back in April. They immediately went to print. I only had eight months to write it from the time—because I was so busy doing these other things. It was like running a marathon.
Of the three books, which gave you the hardest time?
Kevin Kwan: China Rich Girlfriend. The second one was the hardest because it was set in Mainland China. It was about Mainland China's rich, who are super rich, who so much richer than all of us. And I wasn't a part of that world. I was an outsider. It was much harder compared to Singapore.
I don't know China that well. Singapore, Hong Kong, and other parts of the world I am so familiar with the cultures there, the societies there. China was a closed culture, until 20 years ago. And so, I didn't start going until the last 10 or 15 years. I didn't' know it so well. It's not a second home to me in the way that Hong Kong and Singapore is. It was harder to infiltrate that world.
Did you ever anticipate that the book trilogy would ever go this big?
Kevin Kwan: No, I never expected it to ever get to this point. This is really beyond my wildest dreams. I'm really lucky. You know, I think it could have happened to many other authors writing today. But it was just a matter of timing and a confluence of events. It was the right time I think that people in the West especially, and even people in Asia were interested in reading about this subject matter. So I often wonder 'If I did the first book ten years ago, would it have been as successful?' I don't know. Again, I just feel very lucky. Thank you.
Tell us why you think this is historical for an Asian film.
Kevin Kwan: It really is. It is the first Hollywood film in 26 years with an all-Asian cast. The last one was Joy Luck Club. And before that, The Flower Drum Song which starred my cousin Nancy Kwan. So there are really only 2 movies before this that had an Asian cast. This is also the first ever Hollywood romantic comedy with Asian lead stars.
How did you feel when Crazy Rich Asians turned into a movie?
Kevin Kwan: It was just unbelievable to me. Giddy is the right word because every day, I'd be watching audition tapes or hearing from the producers like "Oh my god, we got—we have this person. You need to see the audition. You have to see this." It was just a dream come true. Every day there was a different development. And, I knew so early but we couldn't tell anyone until they'd officially announce the names of the cast members months later. So I had to keep a lot of secrets. And so it was always very nice when the press would release 'Harry Shum is in the movie.' And I can say, 'Oooh, I can finally say Harry Shum is in the movie.'
What do you hope for your readers to take away from all of this, aside from all the crazy stories and the fun anecdotes?
Kevin Kwan: I just really hope to entertain people. I hope people laugh, and have some joy. I hope it makes them think and really decide for themselves what they want to take away from it—whether money is worth the price. You know what, I think everyone will see what they want in life. Whether they want to be a part of this world or if they're happy where they're at.
What do you think is your niche in the writing industry?
Kevin Kwan: I do think that I've become known for this comedy of manners. These satirical novels set in Asia. I'm hoping to really change that. I've written three books but I really want to show the world that I have much more to say. And not just about crazy rich Asians.
The movie Crazy Rich Asians comes out next year.