Hayden Heyer at Radcliff Manor
About D. Perdue Henderson
Author of Hayden Heyer at Radcliff Manor
After twenty years of working as an assistant director and stage manager of multiple stage productions, and partaking in music, voice, and art, it was only logical that D. Perdue Henderson would become a novelist too. Her interest in character development and why people do what they do, piqued her interest in psychology, sociology, and theology at a young age. Taking classes in these areas gave her the perspective that she needed to write about the more difficult subjects, but in a way that is sensitive, yet entertaining. Every story captivates!
Her first novel, Branded (Amazon, 2010), is a suspense thriller about a kidnapped child and her lost innocence. Her second novel Hayden Heyer and the Twin Guardians (Twin Guardian Publishing, 2012) is a fantasy romance with Christian themes, about a teen who is blessed by God and what that blessing means. Book 2 in the series is called Hayden Heyer Trials and Tribulations (Twin Guardian Publishing, 2015) that talks about how to deal with insecurity and fear while dodging evil. Book 3 in the series is called Hayden Heyer at Radcliff Manor (Twin Guardian Publishing, 2017) about testing love and strengthening our God-given gifts.
Hayden Heyer Series is a page-dazzling spiritual odyssey that talks about the experiences of a young teen blessed with God's gift. It talks about the battle of good and evil, love and betrayal, and is now available in twelve countries around the world.
D. Perdue Henderson is now working on her second suspense novel. For more information, visit www.dperduehenderson.com or browse through her facebook page D.PerdueHenderson.
Hayden Heyer Series is available in Amazon, Barnes and Noble, Books a Million, and all online bookstores.
You may visit these sites:
https://www.amazon.com/Ms-D.-Perdue-Henderson/e/B004OHWWLA
https://www.barnesandnoble.com/s/Perdue+Henderson?_requestid=1414599
http://www.booksamillion.com/search?id=7025957782774&query=Perdue+Henderson&where=All
About the Book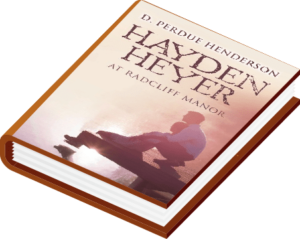 Hayden Heyer at Radcliff Manor is the third book in the Hayden Heyer series. With 300 pages, there is more than enough action to keep you entertained for hours. In the beginning your are whisked away to a tropical island in the Atlantic, where most of the story takes place. Romance, betrayal, possession, and demon sword fighting are merely a few things Hayden must deal with. While there, she allows the guardians to train her and strengthen her powers and abilities. Only to find out the powerful foe that has been stalking her can take away those powers with a snap of his fingers.
An exciting paranormal read awaits!